Short films always stand out from the full-length works. The directors, deciding to shoot such film, are aware that they can't waste any time. They should try to fit all the story they want to tell us into a shorter period of time.
A perfect example of this is "Bab Sebta". However, not only the plot is remarkable here. The technique used in the film, mainly the work of the cinematographer, is worthy of separate discussion, but more on that in a moment.
In just seventeen minutes film tells us about the everyday life of smugglers on the Morocco-Spain border at the border crossing with Ceuta. Ceuta is a Spanish exclave in the very north of Africa, on the one side bordered with Morocco and on the other with the waters of the Mediterranean Sea. The smugglers are hundreds and thousands of ordinary people, men and women, who bring all sorts of goods to Ceuta, from pots and second-hand clothes to shoes, meat and crockery. Following their "profession" they have to stand in huge queues for hours until they reach the gate of inspection spot and customs clearance. Showing the monotonous waiting for permission to cross the border in a way that does not bore the viewer required special measures. In this case, there are at least two immediately striking solutions: recording of the very long scenes in a single take, and the use of overhead shots from a very unusual perspective for viewers. These are not bird's-eye shots (although they sometimes appear) but shots right over the heads of the characters. This creates the incredible effect of being present "inside" the film and being able to observe the characters' behaviour while remaining unnoticed.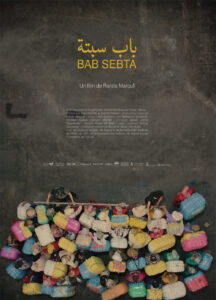 The fact that the cast includes not only local people playing the roles of smugglers, but also the smugglers themselves, adds to the authenticity of the film. In a way, it raises this work to another level by adding a touch of the documentary genre.
Shots along the incredibly long queue made in the style of a "slow film" allows us to look at each person individually and notice a common feature, the tendency to find ways to kill time resulting from the hopelessness of the situation in which they are placed. They are bored and try to find some kind of occupation. They get out of their cars to exercise, pray or play some games, just to make the process of waiting more interesting. Only for a moment, at the end, there is a fuss caused by direct border crossing. The camera suddenly moves to the very centre of the crowd, but after a while it returns to its previous low, balanced flying over again monotonous and undisturbed by noise setting. The film's director Randa Maroufi herself said it best, "I wanted to find out what happens when time stops". And she did it very well.
Olgierd-Liekh Dobrovolskyi