What inspired you to create "Sincerity"?
Mainly two things. First of all, it was a thought I had on the subject of one of the most important moments in our lives, namely entering the world of adulthood – a goodbye to a forlorn world, to people, bonds, to ways of spending time that in later years just doesn't feel the same. Second, I wanted to tell a story, where the focal point would be one of my most treasured qualities – the titular sincerity. It was in some way a coincidence that this thought and what I wanted to tell created in the end a full story.
"Sincerity" has four main characters that never really achieve said sincerity.
What we see, is their last meeting after their final exam, when it's clear to see that their bonds won't last. The characters spent time as they usually did – no words uttered about subjects that were really important. But the film is not judgemental. It simply shows this type of situation.
Throughout our lives we face many crises – moments where we feel our world as we've known it change and crumble. That's why we have things like midlife crisis, old-age crisis and adolescent crisis. You focused on the third. Is it closer to your heart?
Practically speaking I'm closer to a midlife crisis but I have to admit, only now do I fully understand the importance of the ages seventeen, eighteen. That time was invaluable to me, which I discovered while making this film.
So whom did you have in mind while creating it?
Good question. I didn't really think about it while making "Sincerity", it was a need of the heart first. Although I know that it's very well received by my peers. They can see themselves in the characters mainly because the movie takes place in a time they know well – they remember how it was to take first steps into adulthood.
We also had one screening with audience made up of late-teens and it was phenomenal. Even though there was a large age gap, they clearly knew what the film was about. They empathised with the characters. Even the language used, though now a bit outdated, was seen as true and alive.
Even though the circumstances may change, the emotions stay the same. Entering adulthood is always stressful and anxiety-inducing. And that's what this movie tries to tell.
Exactly. Even though it tells a story of a very specific group of people and is shot in a recognizable time period, it's quite universal. These feelings, no matter the generation or place of birth are felt just the same. Anyone can understand them.
You were also a casting director of the "Sincerity". How did the casting look like?
It was an interesting process, because in spite of having help from Ola Gruben, who does casting professionally, we didn't go through traditional means. I looked for actors – went to acting schools, looked for amateurs and went through submissions. There were a lot of entries but for a long time I just couldn't find the right pick. I met up with many actors and tried to really understand them, see who they are, would they match the role, if their personality would benefit the character… After all, they are supposed to be a close-knit group of friends. I had to make sure that there was synergy between the actors.
And at some point you've found perfect candidates?
This man, Łukasz Gawroński, I've met him by pure coincidence. We had only one but very fruitful discussion, it lasted about eight hours. I asked If he would like to play this role and he agreed. Later on I've met the other three. I managed to find a group of thoughtful, intelligent and understanding actors. I think they're as perfect as they could be.
Your actors manage to have drastically different acting experience. We have Mikołaj Matczak, who had a role in "Love Tasting" or already mentioned Łukasz Gawroński, who played in "The Last Family" and "Leave No Traces". But there is also Paweł Charyton or Maja Michnacka who were not as experienced with performing in front of the camera. How did that work out?
I was lucky that all of them knew each other from the Acting School already and we were filming "Sincerity" at the same time as Mikołaj finished shooting "Love Tasting". Łukasz was still playing in Matuszyński's "Leave No Traces". Paweł on the other hand spent most of the time in the theatre. They were all different, but they listened and understood each other. I'm sure studying at the Academy of Theatre Arts in Kraków helped a lot; after all, it's Poland's best. I think it was a crucial point for creating a team that looks good on the big screen. For Maja Michnacka it was her debut and I can be proud that I managed to discover such a talented actress.
The movie's premiere took place nearly two years after finishing shooting. Why was that?
Filming itself didn't take long, it took barely five days. Editing was a different story. I did the majority of it with some assistance from Łukasz Zdanowski. I remember that some scenes took me around six months to finish editing them… Also sound design took quite some time, mainly because "Sincerity" is an independent movie, and they are usually put on the back burner.
The premiere took place on the 7th of June, at the Koszalin "Młodzi i Film" Festival. You won a Jantar Award in the short debut film category there. From what I've read in one of the interviews, you were not expecting to receive it.
That's right.
What does this Award mean to you?
Most of all, I think of it as appreciation of the sincerity I tried to show – this wholistic truthfulness with oneself, no barriers whatsoever. Perhaps it's also because this film is a little out-of-the-box; it's constructed quite differently than most of the films. I don't want to put my words in the judges' mouths, but I think they fully felt and lived through the story. What does it all mean to me? Well, it might help me create another film…
"Sincerity" is on a quite long festival road trip – from Kazimierz Dolny to Gdynia. What place does our Lublin Film Festival have there?
I really appreciate the LFF because the movies shown here are not only unorthodox, but also of high quality. Even the sole identity of this festival is something impressive to me you don't get the award for the best script, director, etc., but rather for the best movie in a chosen genre. Because if we have directors such as Cassavetes, Weerasethakul or Lánthimos in the same category, then yes, it's clear to see that they are all great in doing what they do but to compare their art… For me, your way of solving this problem is just and is clearly made with movie qualities in mind. That's why I like it here, and I'm honestly so happy to be here.
***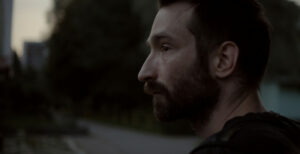 Adam Porębowicz – graduated philosophy at the University of Warsaw. His short debut film "Sincerity" is a story of four friends who have to face and learn about growing up and the fear associated with it. The movie won the Jantar Award at the Koszalin "Młodzi i Film" Festival. Awarded with the Golden Anteater – Krzysztof Szot Award and the Honorable Mention in the competition Focus: Emotions at the Lublin Film Festival 2022.